Universal policy: PPP is political but nonpartisan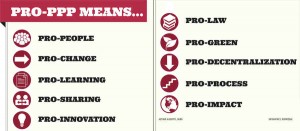 Regardless of who wins in today's presidential elections, whether he or she belongs to a political party or is running as an independent, this voter expects the next president to be pro-public-private partnership (PPP). Even if I were a voter in another country, I will also demand that a pro-PPP stance must be advanced by candidates and would-be head of state.
PPP should be a universal policy, a nonpartisan program and an inclusive, not an exclusive, development approach. PPP is now a Sustainable Development Goal adopted by the United Nations, and must be recognized as such by the next president.
I believe that none of the presidentiables will dare say they are against PPPs. Conversely, none of them could or should claim that he or she has monopoly over this development strategy. A true proponent of transformation, innovation, participation and development can propagate PPP, build on the gains of previous administrations, not just the current one, and address the deficits and gaps.