'Nightmares' after award of PPP contracts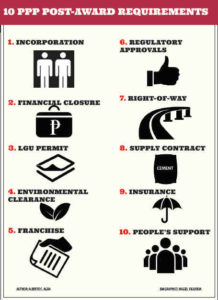 WHAT happens after a public-private partnership (PPP) contract is signed? Can the private-sector proponent (PSP) immediately construct the facility after issuance of the notice of award? What are the CPs, or conditions precedent, before the PSP can proceed? Which is more difficult—getting the award, being allowed to proceed or implementing the project?
Contrary to what others might say, it is not smooth sailing after an implementing agency (IA) and a PSP seal a PPP contract. After going through a bidding process, which on the average takes 29 months to complete for national projects, there is no assurance that the IA and PSP will have no more headaches. History has taught us that, like in any partnership or project, there are stress points.
• Post-notice of award (NOA)-Pre-notice to proceed (NTP). The PSP cannot immediately undertake the PPP project right after the signing of agreement with the IA and issuance of the NOA. The PSP, with the help of the IA, must comply with the CPs before it obtains the go signal to proceed with the construction and implementation.