Battling the drug menace via PPPs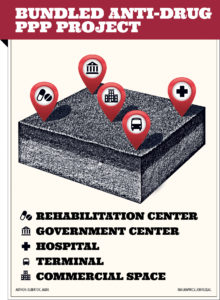 CAN there be a link between combatting the drug crisis and pursuing development through public-private partnerships (PPPs)? What antidrug programs and projects can be undertaken through PPPs? Who will be the payors of these projects? What PPP modalities can be used?
• Defining the context. In order to establish a link, the drug menace must be viewed as the problem and the context, while PPP should be advanced as a, not the, solution. PPPs should not be viewed as the goal. PPP is a vehicle and is just one of several change strategies.
• Expanding PPP's limited con­cept. In order for PPP to be a viable strategy to respond to this problem, the concept of PPP must be ex­panded. Anti-illegal drugs-related PPPs should extend beyond infra­structure, should not be confined to private-sector financing, should be open to civil-society participa­tion, and should involve all levels of the government bureaucracy. This is a basic recognition that government alone cannot ad­dress the crisis on a long-term and sustained basis.