Agra to pursue new business models for Philippine Reclamation Authority
By Alberto C. Agra / Chairman of the Board, Philippine Reclamation Authority
(Acceptance speech during the PRA Turnover Ceremony, November 15, 2016)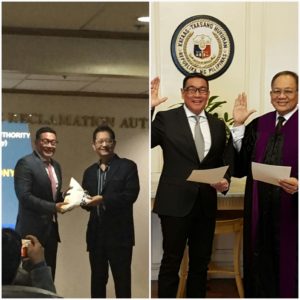 First, let me congratulate the Philippine Reclamation Authority (PRA), led by its Board, Chairman Muldong and GM Abaya for steering the agency to great heights. To be recognized by the Governance Commission for GOCCs as a top-tier state corporation, to remit to the treasury dividends which represent a fivefold increase from previous administrations, to belong to the top 500 nonindividual taxpayers, to implement and facilitate reclamation projects all-over the country and to be compliant with all the requirements set by the GCG are no easy feats. These only prove that the PRA is a cohesive organization driven by its resolve to be relevant and to make a difference.
Good morning!
Leadership is and should be value-driven. When I was reading PRA's five-year corporate report, I cannot help but connect with two of your core values—transformative and adaptive. The challenge, however, is how to live these.
It is in this context that I would like all of us to collectively address and answer three basic questions:
First, should PRA build islands on water for its own sake?
Being transformative and adaptive means that reclamation must have a purpose and this purpose is the pursuit of better quality of life for Filipinos. This is the real and deep change we have committed to bring about. New land must be formed to provide new development, new communities, new roads, new airports, and additional utilities aimed at alleviating poverty, easing traffic, providing access and creating business opportunities while promoting human rights and climate justice.
Second, should PRA be true to its charter so that it will be able to perform its mandate as the infrastructure development authority focused on reclamation unrestricted under existing laws?
I submit that PRA should. Executive Order 146, which adds another layer of approval when there is no law imposing such requirement, must, therefore, be reexamined and possibly repealed. Under its charter, PRA is the approving authority, not just an evaluating agency. Redundancy in approvals causes delay and to delay development is a disservice to the people. Processes must be fast-tracked. PRA must, therefore, be trusted in order for us to build land and, lifting from the corporate creed, build bridges between our nation's vision and its fruition.
Third and last, should PRA explore new business models?

I believe the options for PRA, acting as proponent, partner and/or regulator, are vast. PRA can reclaim and develop on its own, enter into agency-to-agency arrangements with other government-owned and -controlled corporations and government instrumentalities, like the Laguna Lake Development Authority, Philippine Fisheries Development Authority and National Housing Authority, among others, and also state-owned enterprises in other countries, collaborate with local governments units that have awarded or will award reclamation contracts, or partner with the private sector. With other stakeholders, PRA can surely reach and go beyond the 700-hectare reclamation target stated in PRA's vision. PRA cannot do this on its own.
I also submit that PRA should study guarantee mechanisms that government financial institutions, like the Philippine Export-Import Credit Agency, can extend. We must all learn new ways, innovate, engage the market, and not be contended with the status quo and current systems.
PRA is set to mark its 40th year. February 4, 2017, is just around the corner. There is no better time for PRA to take stock of what it has done, what it has contributed and what it can still contribute. The decisions we make today, the contracts we will enter into and the projects we will undertake will surely have an impact.
We are at the cusp of crisis and challenges, and opportunities and hope. Are we ready to do more for a purpose? I am confident that Team PRA, joined together with the spirit of esprit de corps, can and will.
Before I end, let me thank you for welcoming me. Maraming salamat po. Let me also congratulate and welcome incoming GM Jan Rubiato. We assure every one that we will be driven by the same values and direction.
Please also allow me to acknowledge the presence of my beloved better-half, daughter, family and friends.
I remain your leader, servant and friend. Thank you and again, good morning to all.