PRA highlights PPPs and G2G for Legacy Islands on Water
PRA highlights PPPs and G2G for Legacy Islands on Water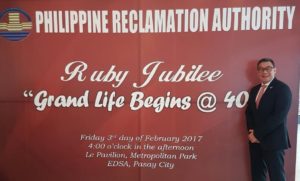 On February 3 the Philippine Reclamation Authority (PRA) marked its 40th founding year with the theme "Grand life begins at 40". In its 77-day accomplishment report, the new PRA leadership, headed by this columnist, as chairman of the Board, and the General Manager/CEO lawyer Janilo E. Rubiato, highlighted public-private partnerships (PPPs) and government-to-government collaboration (G2GC). These arrangements are aimed at building Legacy Islands on Water (LIoWs).
Since November 16 last year, the PRA has inked three memorandums of understanding with the city of Manila for the 79-hectare port facility of the Manila Harbour Centre, city of Bacoor and municipality of Minglanilla, Cebu; two expressions of collaboration with province of Aklan and city of Puerto Princesa for the implementation of infrastructure development projects through reclamation; and one expression of partnership with the Philippine Economic Zone Authority, to explore opportunities for cooperation in pursuing land-reclamation projects for possible establishment of regional economic zones.
P.R.A. hopes to sign similar collaborative agreements with the cities of Manila (for another project), Mandaue, Catbalogan, Naga (Cebu), Masbate, Sorsogon, Baybay, Ormoc, Samal and Panabo, and the municipalities of Consolacion and Tuburan (Cebu).
PRA is set to sign an Expression of Partnership with the Metropolitan Manila Development Authority for a possible "green island" or solid waste-management facility. PRA plans to initiate discussions with the Department of Public Works and Highways, Laguna Lake Development Authority, Philippine Fisheries Development Authority, Philippine Ports Authority, National Housing Authority, Civil Aviation Authority of the Philippines, Bases Conversion and Development Authority, Tourism Infrastructure, Philippine Retirement Authority, Subic Bay Metropolitan Authority, Philippine Veterans Investment Development Corp., National Power Corp. and Union of Local Authorities of the Philippines, among others, for possible partnerships.
All future LIoWs, which includes the 96 reclamation projects in the pipeline, must be liveable, resilient, safe, sustainable, green, generative, propeople, future-proofed and innovative, and a smart community. On LIoWs and related developments, built with nature, PRA envisions the integration or combination of economic zones, smart-community infrastructure, mangroves, flora and fauna ecosystems, renewable-energy facilities, coastal protection structures, green landscapes and blue water, socialized housing units, water collection systems, waste management methodologies, public access networks and mixed-used development, even sports facilities on LIoWs.
All the possible LIoWs that are being eyed or will be considered by PRA cannot be built or funded by PRA alone. It needs partners and cochampions—other government agencies, private-sector proponents, contractors, local and foreign, and civil-society organizations. PRA is poised to issue its PPP guidelines. The guidelines will outline the modalities and procedures for engaging with the private sector.
PRA is open to unsolicited proposals. To date, it has received proposals for its new office, the operations and maintenance of Manila-Cavite Toll Expressway Project, and two long-term lease arrangements in Naic, Cavite, and Panglao, Bohol.
We aim to "grow our land" through partnerships and be a "much larger, more vital agency in the years to come", a challenge posed by Finance Secretary Carlos G.  Domiguez III, PRA's guest speaker last Friday.
PRA is walking the talk and talking the walk. The grand life of PRA and the people it serves begins today. Happy 40th anniversary to PRA.