Are we organizationally ready for PPPs?
Are we organizationally ready for PPPs?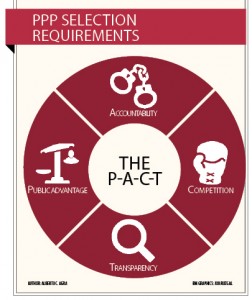 Are our government agencies ready for public-private partnership (PPP) arrangements? Do we have the right leaders, partners and followers? Do implementing agencies undertake PPPs just to join the bandwagon? Do all stakeholders understand what PPP is and what it is not? Do partners share the same vision and trust each other?
PPPs are not just about technical and financials. Organizations must be ready to enter into PPPs. PPP is not for the technically unequipped, knowledge-dependent, innovation-averse, fainthearted and distrustful organizations.
According to Cameron and Quinn, there are four "competing" values in an organization. An organization may be focused just on itself or focused on the market and stakeholders. An organization may give premium to stability and control, or emphasizes flexibility and discretion.
An organization that wants to have internal focus and remain bounded by rules and tradition is said to value the "hierarchy." A culture that values itself yet encourages participation, and "we-ness" is said to be a "clan." An agency, which desires to engage the market within the limits of the rules, is a "market" organization. An institution, which propels itself through innovation, pioneering initiatives and out-of-the-box strategies by partnering with others, is said to espouse the "adhocracy" culture. The organization, in this case, becomes a "network and market organization," per Olsen.
For PPPs, adhocracy is an imperative. In order to be PPP-ready, agencies must go outside themselves, acknowledge the deficits, embrace partnerships and be driven by a shared vision. They must be flexible, not be contented with the status quo and not stymied by rules, tradition and run-of-the-mill strategies.
PPP requires agencies to partner with the private sector and civil-society organizations, and work with regulators. Agencies should look beyond the typical PPP modalities, and explore other ways of partnership for the public good.
This does not mean that agencies should violate the law and dismiss itself, and treat its plantilla as irrelevant. On the contrary,  adhocracy  should coexist, and must complement the other values of "clan," "hierarchy" and "market." As part of the bureaucracy, agencies must follow the rule of law.
The organization, as a team, must be capacitated and nurtured. The agency must know its mandate and capitalize on its competitive advantages.
The Metropolitan Waterworks and Sewerage System, by using the lowest tariff scheme for the Bulacan Bulk Water Supply Project; the Quezon province, in entering into a joint venture for bulk water, hydropower and wind power in a single project;  the City of Cebu and Municipality of Cordova, in banding together for the third bridge; the province of Bataan, in engaging the private sector for its capital redevelopment; the water districts of Lingayen and Tarlac, among others, for the rehabilitation of the water system, all exemplify adhocracy.
To achieve and sustain this, the leaders, partners, followers and stakeholders must all be visionary, participative, goal-oriented, capable and able, and learned. They must be transformative, since the objective of PPPs is better quality of life and must practice technical leadership, since PPPs must be legally acceptable, technically compliant and
fiscally viable.
We need more. We can do more. But more is required of us.