Averting PPP 'turf clashes'
Averting PPP 'turf clashes'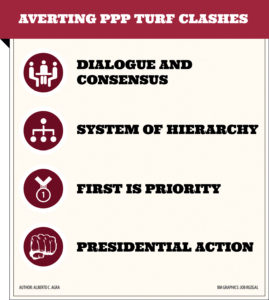 CAN a public-private partnership (PPP) project be undertaken by more than one implementing agency (IA)? How should turf issues be addressed and resolved? Which IA takes precedence? Who should undertake monorail, water, reclamation and bridge PPP projects?
The first State of the Nation Address of President Duterte outlined 10 projects that may be implemented through PPPs, i.e., roads, airports, bridges, tourism-related facilities, harvest facilities, public health, irrigation, rail, ferry systems and public Wi-Fi. Aside from these, this columnist has another list of 10—waste-to-energy/renewable energy, water supply, septage/sewerage, reclamation, rehabilitation centers, monorail, mixed-use land development, markets, terminals and smart city projects.
The question now is who is the appropriate IA. There are three levels of IAs—national, local government and state corporations. All IAs are part of the State who should recognize the indispensable role of the private sector in development. They have their mandates governed by their respective charters and all are duty-bound to serve the people.
All IAs are now scampering for PPP projects. Take, for example, monorail for adjacent cities and municipalities. At the national level, the Department of Transportation may assert its authority, since the transport project traverses more than one local territory. If the monorail project is in Metropolitan Manila, the Metropolitan Manila Development Authority may opt to be the IA.
Two government-owned and -controlled corporations (GOCCs) may also lay claim. The Philippine National Railways and the Light Rail Transit Authority, in advancing their respective powers, may demand exclusivity. The cities and municipalities may pursue the monorail projects themselves. One city may pursue its own intracity monorail, then connect with the adjacent monorail project. The local government units (LGUs) may even enter into an inter-LGU arrangement for an inter-LGU monorail project.
This "national-versus-LGU" dilemma arose in the third bridge PPP project. While there is no issue that a third bridge connecting two islands is needed, an issue was raised regarding who is the proper IA. Is it Cebu City and the municipality of Cordova jointly, or should it be the Department of Public Works and Highways?
A similar situation may arise in water-related PPP projects in supply, distribution, irrigation, hydropower, septage and sewerage. Water districts, which are GOCCs, have no exclusive rights over these projects. LGUs, under the Local Government Code, may also put up these systems. The National Irrigation Administration can also be an IA. For Metropolitan Manila, the Metropolitan Waterworks and Sewerage System can come into play.
Reclamation projects are not shielded from possible turf clashes. Provinces and cities, the Philippine Reclamation Authority and the Laguna Lake Development Authority can all reclaim land.
How do we, therefore, avert these conflicts? First, there must be dialogue and consensus. A system of hierarchy and priority may be adopted. If there is a conflict among the three levels of IAs, either national government or LGUs may prevail. This columnist subscribes to the latter. A "first-come, first-served" approach may be developed, where priority is given to that IA who starts the selection process first. Presidential action and intervention may also be resorted to.
We hope that these turf clashes can be addressed soon. Pro-people development cannot wait.