PPP in Philippines pop quiz: How much do you really know?
PPP in Philippines pop quiz: How much do you really know?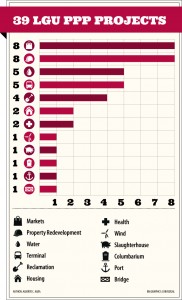 How much or how little do you know about public-private partnerships (PPPs) in the Philippines? Should PPPs be understood by ordinary citizens? Is there a broad learning ecology on PPPs? Do stakeholders have a common understanding of what a PPP is and what it is not?
This pop quiz is intended to gauge your basic appreciation of PPPs. Kindly rate yourself "excellent" if you get 13 to 15 numbers correctly; "very good" if you score 10 to 12; "good" if 7 to 9; and "not-so-good" if below 7. But regardless of your rating and score, we must all be conscientious, vigilant
and active stakeholders in PPPs.
True or False. 1 point each. Good luck.
PPP is anchored on the 1987 Constitution.
PPP is the only solution to the infrastructure deficit.
The build-operate-transfer (BOT) law is the only PPP law in the Philippines.
The definitions of PPP by the National Economic and Development Authority (Neda) and PPP Center are the same.
Revenue generation is not the only value driver for PPPs.
Only national government agencies (NGAs) can pursue PPPs.
It is possible to have one PPP project on water supply, hydropower and septage.
For joint ventures (JVs), the BOT law must be followed.
"Successor Risk" or changes in policies, law and interpretations by the next set of officials is a serious risk.
The highest revenues to government is the only winning financial parameter.
All PPPs must be approved by the Neda and the PPP Center.
Profits of the private sector has first priority in the cash flow for BOT law projects.
The basis for the award in a competitive challenge/unsolicited proposal is the same for all modalities.
There could be a PPP for an existing facility of government.
To date, there are more local government unit PPP projects than NGA projects.
True. "The State recognizes the indispensable role of the private sector" in governance and development.
False. PPP is not a panacea. It is but one of several change strategies.
False. The BOT law is just one of many PPP laws.
False. Unfortunately.
True. Better value-for-money, innovation, risk allocation are other reasons for PPPs.
False. Government-owned and -controlled corporations and LGUs can enter into PPPs.
True. This is the bundling approach.
False. A JV is not one of the BOT law modalities.
True. This is one of the most feared risk in Philippine PPPs.
False. Other parameters, depending on the modality, are lowest subsidy from government, lowest tariff by end-users, or least purchase price or rental.
11. False. The Neda approval depends on the modality and threshold. The PPP Center does not have the mandate to approve projects.
False. Operations cost, debt payments and taxes take precedence over profits/dividends.
False. Under the BOT law and most PPP ordinances provide for the right-to-match, while the Neda JV Guidelines allows an option-to-outbid.
True. This could either be a concession or rehabilitate-operate-transfer arrangement.
True. So true.