Reading PPP into the Sona
Reading PPP into the Sona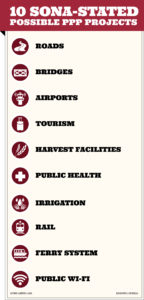 DID President Duterte mention public-private partnerships (PPPs) in his State of the Nation Address (Sona)? Can the programs and projects he enumerated last week be pursued through PPPs? Is PPP a viable option for the priority activities of the current administration?
While there was no mention of PPP in the Sona on July 25, the vision and the context by which PPPs can be effected have been laid out. For PPPs to work and to work in harmony with other change strategies, the "dream" and the values by which this will be achieved must be clarified. The President has sent the message.
At the onset, it must be underlined that PPP is not the end in itself. PPP is one of—not just the only means—many vehicles that may be used by the government to reach its development goals. PPP presupposes that government needs a "partner". Government cannot realize its vision of society on its own.
Government cannot bring about "poverty reduction," a Sona-stated vision, by relying on its own resources. "Lasting peace" can only be achieved if basic services are delivered, some of which can be done through PPPs. PPPs can bring about a "better economy" and "robust growth" at the national and local
government levels.
PPPs, during the construction and operations stages, will surely facilitate "employment". PPPs will not only create "economic opportunities" for the private-sector proponent but for the community, as well. "Competitiveness" among provinces, cities, municipalities, even barangays will be enhanced if these local governments promote PPPs. To fast-track development, PPP processes must be "streamlined".
Of the President's Sona-listed projects, most, if not all, can be undertaken through PPPs. More PPP on "roads" like the Daang Hari-Slex Link, Naia Expressway and Cavite-Laguna Expressway are needed. Aside from the joint venture on the Cebu City-Municipality of Cordova Bridge, national government agencies and local governments, together with the private sector, can do PPPs on "bridges" and "interisland linkages".
"Tourism sites" and economic zones can be established through PPPs. In addition to the PPP School Infrastructure Project, other "soft" PPP projects like "harvest and postharvest," "public health" and "rehabilitation" facilities can be developed. Water-related projects are also needed. Concession agreements, like the Metropolitan Waterworks and Sewerage System concession arrangement, or build-operate-transfer law projects, like the Bulacan Bulk Water Supply project, can be replicated for "irrigation" and
septage projects.
It is also envisioned that PPPs can be the preferred strategy for "alternative transportation modes" like "ferry services," "rails," even monorail projects. Airports and "general aviation" facilities can be improved and rehabilitated through PPPs. To address the power gap, "power" and waste-to-energy projects can be implemented at various levels of government. Information-technology schemes, like the Automated Fare Collection System, for public Wi-Fi can be prioritized by the newly created Department of Information and Communications Technology.
We are off to a good start. Let us all collectively sustain the momentum. Purposive partnership is the solution.